We are the molecule makers
And we are the dreamers of dreams

© Skye Fortier, Proprieter 2017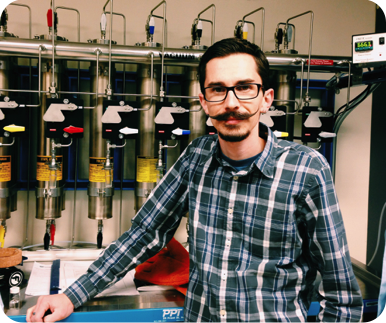 • Alfred P. Sloan Research Fellowship, 2018
• American Chemical Society Petroleum Research Fund - Doctoral New Investigator Grant, 2017
• University of Texas System Science and Technology Acquisition and Retention (STARs) Award, 2013
• National Science Foundation American Competitiveness in Chemistry Postdoctoral Fellowship (ACC-F), 2011
• University of Chicago Provost's Career Enhancement Postdoctoral Scholarship, 2011 (declined by SF)
• UCSB Robert H. DeWolfe Graduate Teaching Award, 2009
• UCSB Roche Graduate Teaching Award, 2008
• UCSB Dept. of Chemistry Outstanding Teaching Assistant Award, 2008
• UTEP NIH Minority Access to Research Careers (MARC) Scholar, 2003 – 2005
• American Chemical Society Scholar, 2003 – 2005
• Los Alamos National Laboratory, G. T. Seaborg Institute for Transactinium Science Fellow, 2004
Dr. Skye Fortier is a native of the desert Southwest, born and raised in El Paso. As an undergraduate, Dr. Fortier (then known to his friends, family and mentors as Mr. Fortier) attended UTEP where he received an NIH MARC (Minority Access to Research Careers) scholarship. As a MARC scholar, Dr. Fortier worked under the direction of Prof. Keith Pannell investigating the photochemically induced formation of carbon-silicon bonds utilizing 'Fp' precursors (Fp = CpFe(CO)2). Dr. Fortier also volunteered as a Peer Leader for General Chemistry and was the Vice President of Internal Affairs for the UTEP Chapter of the American Chemical Society-Student Affiliates. After graduating with a B.S. in Chemistry from UTEP in 2005, Dr. Fortier ventured out to change the hearts and minds of El Paso students. Working at Irvin High School in northeast El Paso, Dr. Fortier taught freshmen IPC (Integrated Physics and Chemistry) and junior Chemistry courses.
Beckoned by the call of Inorganic Chemistry, Dr. Fortier entered the graduate program at the University of California, Santa Barbara in 2006. At UCSB, Dr. Fortier worked in Prof. Trevor Hayton's laboratory investigating the organometallic chemistry of uranium – clearly one of the best and coolest elements known to date. In particular, his studies in the Hayton laboratory focused on the synthesis of high-valent homoleptic molecules and uranium complexes featuring metal-ligand multiple bonds. While at UCSB, Dr. Fortier received a number of awards including the Robert H. DeWolfe Graduate Teaching Award and the 2008 Outstanding Chemistry Teaching Assistant Award.
Graduating from UCSB with his Ph.D. in Fall 2011 and finding the weather in Santa Barbara to be too ideal and pleasant, Dr. Fortier traded in the West Coast for the Midwest in order to work as a postdoctoral researcher under the joint supervision of Profs. Kenneth Caulton and Daniel Mindiola at Indiana University (IU). As an NSF American Competitiveness in Chemistry Postdoctoral Research Fellow (ACC-F), he investigated the synthesis, reactivity, and redox chemistry of iron and cobalt complexes supported by non-innocent, redox-active 'nindigo' and pyridylpyrrolide ligand frameworks. In addition to learning how to play nice with d-block elements, Dr. Fortier also experienced his first real winters.
Not one to shy away from the sun, Dr. Fortier joined the faculty in the Department of Chemistry & Biochemistry at UTEP in 2013. Since that time, the Fortier group has made a number of exciting entries into the areas of early-metal, f-element, and late 3d-metal chemistry. Interests include the use of "super bulky" ligands to stabilize rare and reactive bonds and the reduction of electropositive metals to target reactive molecules.

Makers of fine molecules since 2013