Expository English Composition

Information on this calendar applies only to courses taught by Owen Williamson. Spring, 2011.

Major assignments are due online by 3:00 pm on Friday of the indicated week.

Week One : Jan 18-21
Introduction to class and review of syllabus. Welcome survey.

Week Two: Jan 24-28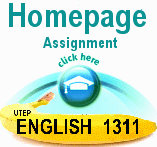 Assignment: Introduce Homepage

nclude a 50 word introduction to your e-portfolio
Include 200 word biographical description of yourself
Provide a copyright and fair use statement

Resource: Explore sample professional homepages.

Read and print out UTEP rules on Web and Internet Access and Use

Discuss "Genre." See GFC p. 267. Relate this, and Discourse Communities, to Theme.

PICK UP MH TEXTBOOK AFTER CLASS IN BURGESS 201!

Resource: "Style"

(with possible exercise). Read GFC p.66.

Resource: Writing Rules

MH: Chapters 1-3

GFC: Chapter 2

Discourse Community Map and Response Activities (GFC p. 126-136)

Discourse Community Map and Response due online by Jan. 29, at 7:30 am. Worth 5% of your grade.
Week Three: Jan. 28-Feb. 4
Discuss homepage rubric: See GFC p. 256.

Assignment: Introduce Agency Discourse Memo.

Discuss "agencies."
Library of links to agencies, groups, articles and other resources on themes. Links highlighted in

green

qualify as "agencies."

Resource: How to Write a Memo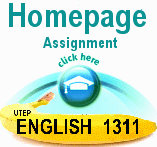 Resource: UTEP Alumni Association Memo
(You can use this as a format model)
Instructions: Writing a Memo. Possible handout
Resource: The "Who Cares?" test.
MH: Chapter 5
GFC: Chapter 3
Homepage Activities (GFC p. 138-145)
due on your web portfolio by Feb. 5, at 7:30 am. Worth 5% of your grade.
No change of semester theme allowed after Feb. 5.

Week Four: Feb. 7-11
Annotated Bibliography
of
10-15 sources of various types (book, article, website, etc.)
with
annotations of 100-150 words each.
Sources cannot normally be older than the year 2000.

At least 7 sources must be locally-related.
Research--how to do it. Scholarly sources and popular sources.
See GFC pps. 95-6 and 102.
Resources: Scholar Google; Science magazine Searchall search engine; ArXiv science preprint archive
Resource: UTEP Digital Commons Dissertation/Thesis Index
MH: Chapter 19
GFC: Chapter 5

Agency Discourse Memo Activities (p. 147-152)
10% of your grade.

Week Five: Feb. 14-18.
Community problem Report
Discuss Community Problem Report Grading Rubric

Primary research:See GFC p. 75.
Exercise: Connect your theme to your personal, educational, professional and civic life.
MH: Chapter 20, GFC: Chapter 4
Annotated Bibliography Activities (GFC p. 158-164)

Week Six: Feb. 21-25
(cont'd)
Sample problem report on El Paso's water
Exercise (tentative): Analyze organization of a paper or a source on your biblio
MH: Chapter 6
GFC: Community Problem Report Activities (GFC pps. 166-173)

Week Seven: Feb. 28-Mar. 4
Exercise: Create a library of quotes for your report, with in-text citations.
Exercise: List three discourse communities in favor of your standpoint and three against. Indicate what genres each discourse community typically uses for internal and for external communication.
Finally, indicate how you. personally, relate to the discourse communities in favor of your standpoint. Through your research and composition, are you in fact joining any of these discourse communities or drawing close to any? To what degree?

Week Eight: Mar. 7-11
Discuss conclusion on Comm. Prob. Report

Assignment: Introduce Rhetorical Analysis,

Resource:. See Slide Show on rhetoric.

Exercise: Find / decide on article on your theme to analyze!
Tentative exercise: How is knowledge typically created and shared in the particular discourse community or communities that have to do with your theme?
MH: Chapter 14, Chapter 9

Midterm Grades due.

10%of your grade
Spring Break March 14-18, 2011

Week Nine: Mar. 21-25
What real audience should see this piece of writing, or might even pay good money to read it? Why would they care?
How well does this composition serve that audience? Why or why not?

Send response to special e-mail indicated in class.
. Is your article antagonistic or not?

Exercise: Practice analysis: Article from NY Times

MH: Chapter 7

Optional Resource: Analysis Power Tools

Week Ten: Mar. 28 - Apr. 1
H/W: Find a visual related to your theme!
Sample visual analysis: from NY Times
R
esources: Sample visual arguments. E.g.: "That Liberty Shall Not Perish from the Earth" and The Poster as Propaganda (slide show): Bananas; You are Here; Dr. Pepper; Global warming
Sample video: "The Pinky Show: Immigration."
MH: Chapter 18
GFC: Visual Analysis Activities (GFC p. 190-196)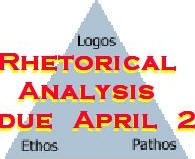 Rhetorical Analysis is worth 10% of your grade.
C
esar Chávez Day, Thu., Mar. 31, no classes.

Week Eleven: Apr. 4-8

11:30-12:00 on Monday, April 5 (only): Student survey.

MH: Chapter 17

GFC: Visual Analysis Activities (GFC p. 190-196)

Resource: Analysis Power Tools

Resource: Division

. How to write a division: Where is it that you really differ with your opponents?

Resource: How to attack an opposing argument (refutation). Possible exercise.

Week Twelve: Apr. 11-15
Resource: Cicero's Classical Format for Persuasive Writing
Possible exercise: Writing an argument.
Discuss: Opinion Piece Grading Rubric
Resources: Sample Opinion Piece; sample letter to the editor; another sample letter to the editor.
Explore El Paso Times Forums and Blogs, and The Prospector (UTEP).
MH: Chapter 8
GFC: Opinion Piece Activities (GFC p. 199-204)
Resource: Common Errors
Resource: Delivery
Tentative: ENGL 1311 Symposium . Class members will be presenting in an undergraduate panel. Places are available for 25 students, first come, first served. Extra credit is available for attendance.

Week Thirteen: Apr. 18-21

Banana Ketchup (Amnesty) Week Apr. 18-21, 2011!

Assignment: Introduce Visual Argument/Presentation

Discuss Visual Argument Grading Rubric

Resource

: World-changing rhetoric

Possible exercise from A Taxonomy of Change (items 2, 6, 7, 8, 10, 12 and 14 only).

MH: Chapter 11.

GFC: Visual Argument Activities

Discuss Brochure.
Discuss MS Publisher.
To get extra credit, get your Opinion Piece published and put a link to your Opinion Piece on your homepage.

If you used a screen name on your Opinion Piece, advise me!
APRIL 22, 2011. Study Day, no classes.

Week Fourteen: Apr. 25-29
Assignment: Continue Visual Argument. Discuss Memo:
Proper memo format for headings
Single-spaced block format
Traditional/professional font (Times New Roman, Cambria, Georgia, etc.)
500-750 words in length
Information: Free Speech and Assembly on Campus (UTEP)
MH: Chapter 11 continued; Chapter 16
GFC: How to Make an Effective Brochure, pps. 218-219
GFC: Visual Argument Activities IBrochure): pps 220-227
Resource: Professional brochure samples
Resource: Effective Brochure Design

Week Fifteen: May 2-5
Exercise: Delivery analysis on your own brochure (f not completed last week).
GFC: Presentation Guidelines (Brochure) p. 228.
Last day of regular classes: May 6.
Memo and all other classwork except Brochure due by May 5 at 3:00 pm.
NO CLASS FRIDAY, MAY 6. STUDY DAY